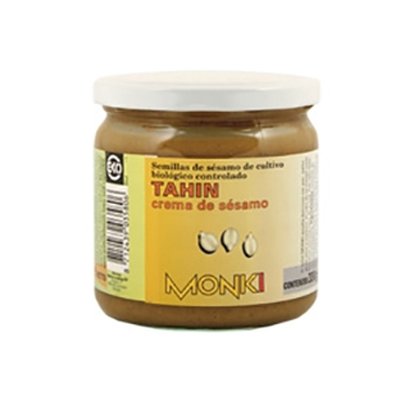 MONKI TAHIN SIN SAL 330G
---
Terms and Conditions
30-day money-back guarantee
Shipping: 2-3 Business Days
DESCRIPCIÓN
Monki Tahin Crema de Sèsamo es una crema que ademas de ser muy rica proporciona grandes beneficios nutricionales. Entre ellos destaca su alto nivel de contenido de grasas insaturadas, que nos ayudan a mantener los niveles de colesterol bajos. Las semillas de sésamo son una gran fuente de vitaminas A y E, y del complejo B como B1, B2, B3, B6, y B9, que son esenciales para las células rojas de la sangre, la energía y el metabolismo de los alimentos. Aporta minerales como el manganeso, calcio, hierro, magnesio, fósforo, potasio, zinc, cobre y selenio, los cuales apoyan la salud ósea, el desarrollo de los glóbulos rojos, el mantenimiento de un sistema inmunológico fuerte y el equilibrio de líquidos.
Excelente ingrediente para elaborar hummus o paté de garbanzos, salsas, cremas y aliños. Ideal para utilizar con pan, galletas o creakers.  
Al cabo de un tiempo, suele formarse una capa fina de aceite, solo con removerla es suficiente.
INGREDIENTES
Semillas de sésamo* tostadas.
(*) De Agricultura Ecológica
ALÉRGENOS: Puede contener trazas de cacahuetes y frutos secos.
¿COMO LO USO?
El Sitio web puede utilizar cookies para personalizar y facilitar la navegación plena del Usuario en el mismo. El Usuario puede configurar su navegador para notificar y rechazar la instalación de las cookies enviadas por nosotros.
This is a preview of the recently viewed products by the user.
Once the user has seen at least one product this snippet will be visible.
Recently viewed Products