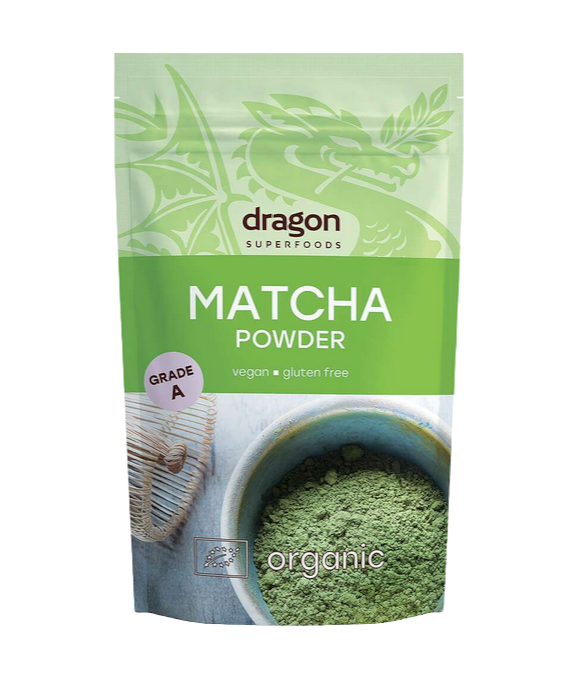 DESCRIPCIÓN
Dragon Matcha grado A

Té verde japonés con poder antioxidante de grado mas alto (grado A), 137 veces más antioxidantes que una infusión de té verde. Favorece el adelgazamiento. Acelera la termogénesis (la capacidad de gastar calorías en forma de calor corporal). Posea alto contenido en fibra. Rico en L-teanina- lleva a un estado de relajación y bienestar actuando sobre el funcionamiento del cerebro..
Matcha esta elaborada con las hojas más tiernas de la planta, que ha sido cultivada a la sombra para elevar de forma natural sus niveles de antioxidantes y clorofila. Mediante un delicado proceso, las hojas son recogidas a mano y son reducidas a un fino polvo en un molino de piedra. A diferencia de las infusiones, el polvo de matcha se disuelve en agua, por lo que literalmente ingerimos las hojas de té, recibiendo el 100% de sus nutrientes y una gran cantidad de fibra.
Es un ingrediente versátil, ya que no sólo se puede consumir en forma de té, sino como ingrediente para realizar sorprendentes trabajos de repostería o la preparación de lattes, batidos, helados, cócteles... ¡o tan lejos donde tu creatividad te lleve!
INGREDIENTES
Polvo de matcha 100% orgánico

This is a preview of the recently viewed products by the user.
Once the user has seen at least one product this snippet will be visible.
Recently viewed Products